CONTACT INFO

| | | |
| --- | --- | --- |
| | Call Farley Malorrus for Readings, Lectures, Tutoring, Appearances, Media, or questions at 310- 415-9222, Visa/MC Accepted. | |
MAIN MENU



Farley Malorrus is Back!


Following the phenominal success of Astrological Metaphysical Radio on L.A. KFox radio, and CRN, RadioAstrology.com is rebroadcasting Farley's Topics.



Launch of RadioAstrology.com


After many months of preparation, Radio Astrology.com was launched on September 29th, 2006.



Farley's Message Board


Farley has created a blog to discuss Metaphysical, Astrological, and Spiritual topics.




PodCasts Now Available (2007)


12/10 - RadioAstrology has now created a PodCast Page. New topics are now being added to this page.




September 2008




Revamped the entire site with a new layout.





September 2018


Reorganized the Radio Topics page for easier editing and listing.
Continuous streaming of topics is also available via the Internet Archive Audio Playlist on our Topic List page.




October, 2012
The entire digitized collection of Radio Astrology topics have been uploaded to the Internet Archive.
Specific topics are no longer available on CD. However, the task of converting these topics is considerable, and will be ongoing for many years. Consequently, your support in assisting us to provide these topics to you is greatly appreciated.
Please donate by clicking on the "Make A Donation" button in the right-hand column. Thank You.



Farley Malorrus is available for:




Channelled consultations including Astrology
Lectures
Tutoring
Appearrances
Media
Questions

Call 310-415-9222, Visa/MC Accepted.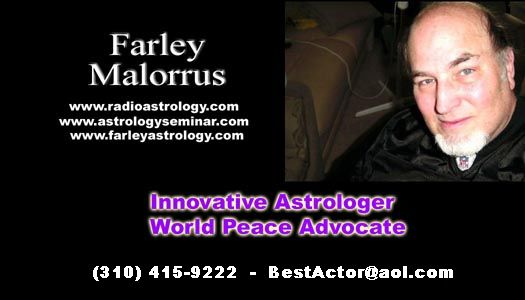 P

UBLIC

S

UPPORT



| | | |
| --- | --- | --- |
| | With your support, you help to keep higher consciousness radio alive. We can accept most forms of payment. | |
FARLEY'S BIOGRAPHY